PHOTOS: In Phoenix, Kelly Meets with Semiconductor Industry Leaders to Discuss His Microchip Bill, Tours TSMC Facility 
Yesterday, Arizona Senator Mark Kelly met with business leaders from the semiconductor industry to discuss his bipartisan legislation to boost domestic microchip manufacturing and create jobs in Arizona and across the country. Kelly, who was named to the bipartisan conference committee tasked with finalizing this landmark legislation, met with representatives from leading microchip companies like Taiwan Semiconductor Manufacturing Company (TSMC), IBM, Intel, Microchip, NXP, Amkor, and Arizona-based defense companies, as well as leaders from the Arizona Commerce Authority, Semiconductor Industry Association (SIA), and SEMI. The group discussed the urgency of passing this legislation and Kelly heard feedback on industry needs.
While in the Phoenix area, Kelly also toured the TSMC Fab21 microchip manufacturing facility currently under construction. Once complete, TSMC expects to hire over 2,000 workers at this location by next year. TSMC is the world's leading-edge microchip manufacturer and Fab21 will be its first manufacturing facility in the United States. Kelly's bipartisan legislation would support more of these investments in Arizona that will create thousands of high-paying jobs, strengthen supply chains, lower costs, and reduce the United States' reliance on foreign countries for this technology critical to our national defense and economic security.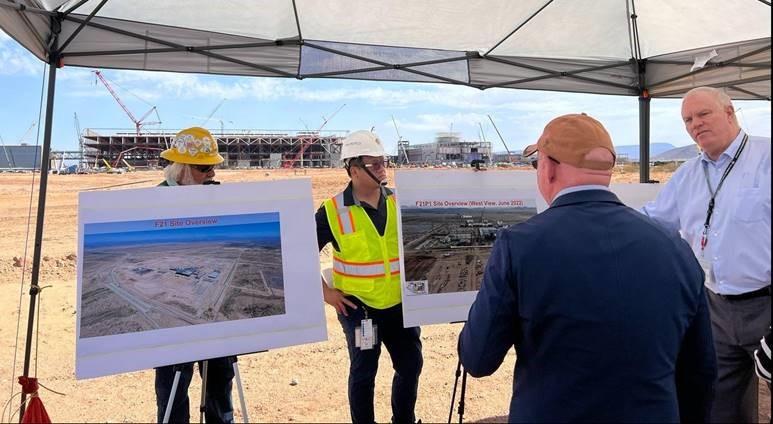 Last week, Kelly met with Intel CEO Pat Gelsinger to discuss the importance of his legislation. Last year, Intel announced that it will invest an additional $20 billion in microchip manufacturing in Arizona. Arizona is expected to double its number of microchip manufacturing jobs over the next decade, and Kelly's legislation would strengthen Arizona's position as a leader in this industry.