IN THE NEWS: Kelly Urges Biden Administration to Act on Gasoline Prices Facing Arizonans
In case you missed it, Arizona Senator Mark Kelly called on the Biden Administration to act on lowering gas prices, citing the strain increased prices have been causing on working and middle class Arizona families.
Last week, in a Senate hearing in the Committee of Energy and Natural Resources, Kelly asked Energy Information Administrator Stephen Nalley when Arizonans could begin seeing relief as crude oil prices start to drop.
On Thursday, Kelly wrote a letter to President Biden urging him to take actions to lower costs, writing:
 "Arizonans have been squeezed by elevated gas prices for much of 2021. Our state is currently ranked by the American Automobile Association (AAA) as one of the most expensive markets in gas prices. The pain felt at the pump is an economic hardship for those who commute to work and drive their children to school on a daily basis," Kelly said. Read Kelly's full letter to Biden HERE.
See news highlights on Kelly's efforts below:
ABC 15: Sen. Kelly Urges Biden to Act on Gas Prices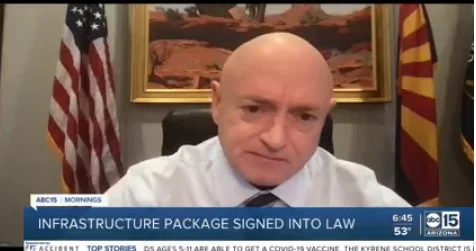 KTAR 92.3: Sen. Mark Kelly wants White House to look into Arizona's soaring gas prices
The rapid rise of gas prices in Arizona is a concern to Democratic U.S. Sen. Mark Kelly and he wants the White House to do something about it.
"We're asking them to look at it. … This is really hurting families across our state," Kelly told KTAR News 92.3's Arizona's Morning News on Thursday.
Costs for a gallon of regular unleaded gas in the state is averaging $3.72 as of Thursday, according to AAA. The national average is $3.41.
KYMA: Senator Kelly says 'Arizonans need relief' from rising gas prices
On November 18, Arizona Senator Mark Kelly wrote a letter addressed to the Biden administration regarding the increasing gas prices in the state. […]
Senator Kelly urges the administration to elaborate on possible plans for gas prices, as well as considering working with the state to monitor any price gouging.
CNN: Sen. Kelly Asks Biden to Act on Gas Prices