ICYMI: Senator Kelly Highlights Impacts of Bipartisan Infrastructure Law in Series of Opinion Columns Across Arizona's Local Papers
Last week, following the President's signing of the bipartisan infrastructure bill into law, Arizona Senator Mark Kelly penned several opinion columns in local papers across Arizona discussing how the law will improve communities from Yuma to Kingman.
Kelly was part of the bipartisan group of Senators that helped shape the $1.2 trillion Infrastructure Investment and Jobs Act, a historic investment in Arizona's infrastructure priorities including roads, bridges, rail, ports of entry, the electric grid, water systems, and high-speed internet. Specifically, Kelly was part of working groups that drafted the provisions on water and power infrastructure, superfunds and brownfields, permitting, and wildfire mitigation. 
Read key excerpts from Kelly's opinions below: 
YUMA SUN – Guest Opinion: Port of entry, water both top priorities in infrastructure bill
… The San Luis Port of Entry processes more than three million cars and seven million pedestrians every year, and yet, its facilities are aging, leading to congestion and frequent delays on border crossings of both goods and people. Port efficiency is key for many jobs that depend on cross-border trade, travel and tourism, as well as for Yuma's agricultural harvest season that provides the nation with produce. We cannot afford the costs of these interruptions, and they should not fall on the backs of border communities like Yuma, Somerton, and San Luis. That's why since the start of my term, I've been laser-focused on getting Arizona's ports of entry the resources needed to bring them up-to-speed.
[…] I helped secure funding to complete the San Luis 1 Modernization Project, bringing overdue improvements to a key piece of infrastructure that connects us with a leading trade partner, and brings a majority of sales tax revenues in San Luis and the surrounding region…
PINAL CENTRAL – Kelly: Pinal stands to benefit from upgraded highways, water infrastructure
… In the 21st century, folks need to be able to access online classes, start a business or go to virtual doctor's appointments. Instead, too many face connectivity barriers to these opportunities. That's why I fought to expand broadband across our state, with special attention to rural areas that frequently face higher costs for these projects. […]
…As they face higher costs and a rebuilding economy, I believe that farmers, business owners and families urgently need and deserve reliable infrastructure and water security for our state to continue to grow and prosper. With the final passage of the bipartisan Infrastructure Investment and Jobs Act, we're making remarkable strides toward securing that future, and I remain committed to bringing even more results for Pinal County and our state whose impacts will be felt for decades to come.
YOUR VALLEY – Sen. Kelly: Valley benefits from new roads, transit investments
…The Infrastructure Investment and Jobs Act is a down payment on the things that connect us — roads, bridges, transit, internet and more — and is going to put Arizona on a path not only to economic recovery, but prosperity.
More than ensuring a competitive edge for our country, it will be pivotal for Arizona's workers. Studies have found that the bipartisan infrastructure bill would create roughly half a million new American manufacturing jobs in the next three years alone.
Thousands of jobs will be created right here in Arizona. And these jobs will be force-multipliers. As more and more companies choose Arizona to house their expanded operations, we will witness even more great-paying jobs. […]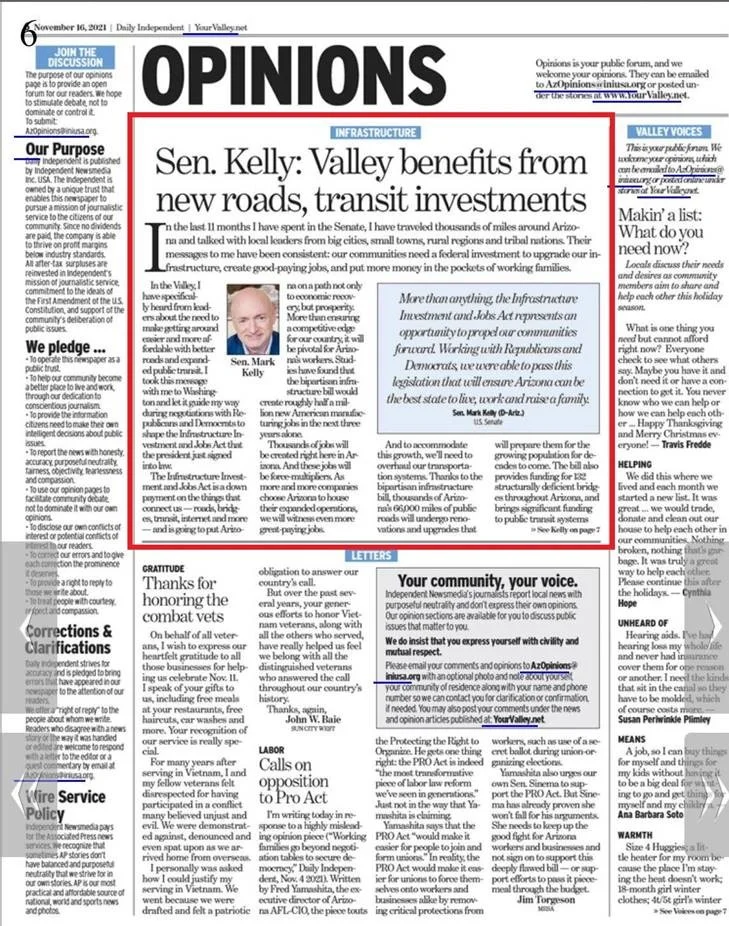 KINGMAN DAILY MINER – Column | New roads, faster Internet coming to Mohave County
 … Arizona's 66,000 miles of public roads and aging bridges will undergo renovations and upgrades that will prepare them for the growing population for decades to come. The bill provides funding for roads and 132 structurally deficient bridges, and dedicates specific resources for safety upgrades to rural roads.
I also pushed to ensure that this bill provided the funding to move the I-11 project forward, a priority for me. This means we can finally press play on a plan to create a direct – and much safer – interstate connecting Kingman to Las Vegas and Phoenix. Completing this critical infrastructure project will put Mohave County in the middle of the growing Arizona economy. […]