ICYMI: Sen. Mark Kelly and Bipartisan Senate Group Talk COVID-19 Relief with White House
In case you missed it, over the weekend, United States Senator Mark Kelly participated in a virtual call with a bipartisan group of 16 U.S. Senators, the White House's head of the National Economic Council, and other Biden administration officials, to discuss the COVID-19 response and future relief efforts to tackle this pandemic.
Following this weekend's meeting, Sen. Kelly offered the following statement:
"In order to tackle this crisis we're going to need to work together, Republicans and Democrats, to find common ground. This was a productive conversation and an important one to ensure we get relief to Arizonans who need it most and vaccinations out into our communities to beat this virus. I look forward to continue working with my Republican and Democratic colleagues, and the Biden administration, to support Arizonans through this pandemic and rebuild our economy."
See coverage and highlights below:
AZ Family: Arizona Sen. Mark Kelly on COVID Relief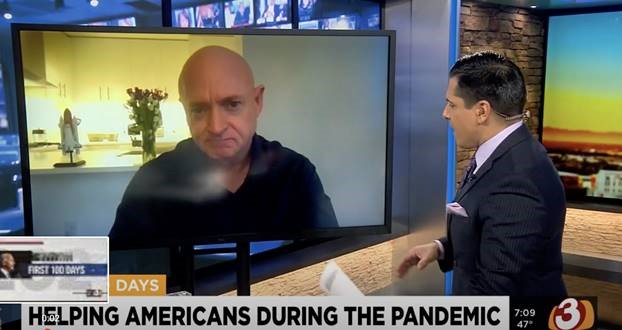 On the economic impact of this, we talked a lot about targeted relief […] I've been speaking to mayors across the state but when you think about what is happening in Yuma, Douglas, and Nogales, border communities have a different amount of need when it comes to vaccines, vaccine distribution, and economic support. I am optimistic that we are going to come to an agreement, Republicans and Democrats and the White House to get the economy back on track and to really drill down and focus on tackling this terrible disease.
FOX 11: Sen. Kelly on bipartisan meeting on COVID relief with White House 
KYMA: AZ Senator Mark Kelly working on COVID relief
ABC 15: Talks begin on COVID-19 relief with White House