Week in Review: Sen. Kelly Talks Jobs, Infrastructure, and More in Stops Around Arizona
To kick off the state work period, Arizona Senator Mark Kelly spent the week meeting with community leaders to discuss historic investments in the state's infrastructure and Arizona's leadership in the clean energy economy. In stops across the state, Sen. Kelly also heard directly from Arizonans on topics from improving public safety to expanding health care access for veterans.
Kelly started the week with a visit to the Western Passport Center in Tucson, where he was briefed on the center's work to meet the historically high-level of demand for passports from U.S. citizens.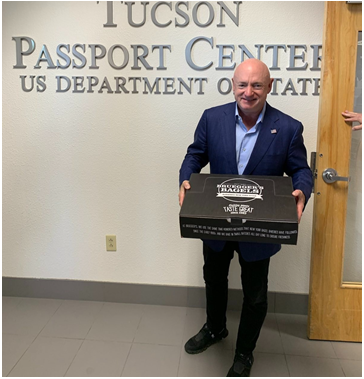 Later, Kelly visited Tucson International Airport where he championed the airport's impact on the local economy and received an update on their airfield safety enhancement program, which is funded through the Kelly-shaped Bipartisan Infrastructure Law. Once complete, the project will transform the airfield layout to improve passenger safety and boost the airport's capacity.
Kelly then met Pima County Attorney Laura Conover to discuss Pima County's law enforcement and criminal justice priorities.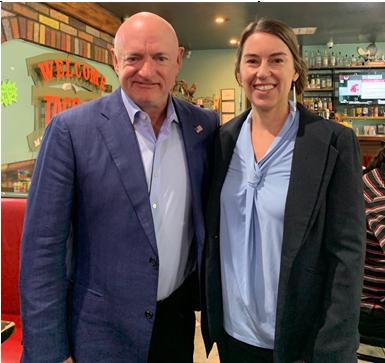 Kelly's next stop was the town of Mammoth in Pinal County where he met with Mayor Patsy Armenta, members of the Mammoth Town Council, and the Chief of Police. Kelly answered questions from Mammoth residents and checked out the town's new patrol vehicle, which Kelly's office helped secure federal funding for.
Later in the week, Sen. Kelly, Phoenix Mayor Kate Gallego, and Arizona clean energy business leaders visited Valley Metro to discuss the Inflation Reduction Act's (IRA)impact on Arizona's booming clean energy economy, ahead of the one-year anniversary of the IRA becoming law. At the event, hosted by the Environmental Defense Fund, Kelly touted Arizona's leadership in the clean energy transition and highlighted how the IRA is already creating good-paying jobs, lowering energy costs, boosting renewable energy, and reducing emissions
Next, Kelly hosted a veterans health care informational session in Phoenix to help veterans learn more about PACT Act benefits. The Kelly-backed Honoring Our PACT Act expands VA health care eligibility for generations of veterans exposed to toxic substances and burn pits — one of the largest expansions in health care benefits in VA history.
To round out the week, Sen. Kelly met with the Mayor of Queen Creek, Julia Wheatley, to discuss housing and economic development priorities in the East Valley. Queen Creek will be home to LG Energy's $5.5 billion planned battery manufacturing factory. When completed, the project will create thousands of good-paying jobs.