Senate Passes Kelly-Backed Bill Expanding Benefits for Veterans Exposed to Toxins, Burn Pits
Kelly-backed Honoring Our PACT Act would bring one of the largest expansions in health care benefits in VA history
Today, the Senate voted to pass bipartisan legislation backed by Arizona Senator Mark Kelly which would expand VA health care eligibility for generations of veterans exposed to toxic substances and burn pits. The Kelly-backed Sergeant First Class Heath Robinson Honoring Our PACT Act of 2022 would bring about one of the largest expansions in health care benefits in VA history.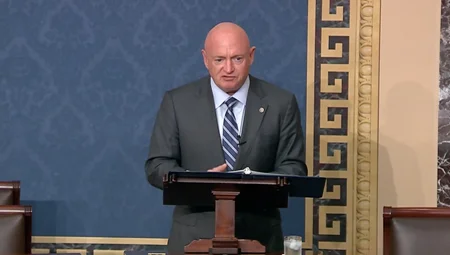 "As a Gulf War veteran, I know that toxic exposure has continued to harm generations of veterans long after they stepped off the battlefield, yet many of them have been met with a closed door by the VA. Our legislation will put an end to that by ensuring that veterans exposed to these toxins can get the care they need without delay. I'll continue working to ensure that Congress lives up to its commitment to our veterans," said Senator Kelly, member of the Senate Armed Services Committee.
"The Honor Our PACT Act is a step in the right direction. We thank Senator Kelly for his continued leadership and support for Arizona veterans," said Dorn Patrick Farrell, President of Jerry Ambrose Veterans Council of Mohave County, INC (JAVC).
"Having served on the Ho Chi Minh trail in 1969, I was heavily sprayed with Agent Orange and have battled with Type II diabetes as a result of my exposure to this harsh and toxic chemical. Our military veterans should be treated for as long as it takes to minimize the debilitating effects of these exposures. I thank Senator Kelly for his leadership on the Honoring Our PACT Act which will ensure that toxic-exposed veterans like me are eligible for the VA health care they deserve," said David F. Lucier, President of the Arizona Veterans & Military Leadership Alliance.
"Senator Kelly's support for this bill will ensure that Congress keeps its promise to our military veterans by getting them the care they have rightfully earned. We are grateful to Senator Kelly's commitment to our military veterans and his continued work to get this bill across the finish line," said Aaron Marquez, Executive Director of Vets Forward and veteran of the War in Afghanistan.
Kelly, a Navy combat veteran, has continued to work across the aisle and pass legislation supporting Arizona veterans, servicemembers, and military families. The Kelly-backed bill will:
Expand VA health care eligibility to Post-9/11 combat veterans, which includes more than 3.5 million veterans exposed to toxins;
Add 23 burn pit and toxic exposure-related conditions to VA's list of service presumptions, including hypertension;
Create a framework for the establishment of future presumptions of service connection related to toxic exposure;
Strengthen federal research on toxic exposure;
Improve VA's resources and training for veterans exposed to toxins;
Invest in VA claims processing, VA's workforce, and VA health care facilities.