PHOTOS: Sen. Kelly Meets with Border Patrol, Sees How Closing Border Barrier Gaps Will Improve Security
Kelly successfully pushed the administration to close barrier gaps presenting operational challenges for Border Patrol near Morelos Dam
Today, Arizona Senator Mark Kelly returned to Yuma, his seventh visit to the Arizona-Mexico border since taking office, to meet with the United States Border Patrol leadership and personnel in the Yuma Sector and see how his successful work to push the Biden administration to close the border barrier gaps near the Morelos Dam will improve border security and management. For months, Kelly worked in coordination with Yuma leaders and law enforcement to secure this commitment. The Department of Homeland Security (DHS) announced on July 28th that it had authorized Customs and Border Protection (CBP) to move forward with closing these gaps.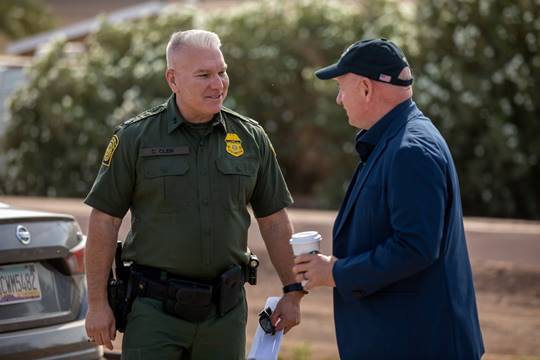 During the meeting, Kelly also discussed his bipartisan legislation to raise Border Patrol pay by 14 percent, expand and retain the Border Patrol workforce including by creating a Border Patrol reserve, as well as standardize professional development and training requirements for all Border Patrol agents. Kelly also received an operational briefing from Border Patrol leadership and personnel about the response and management of the border crisis while touring the border barrier gaps near Morelos Dam. Following the briefing and tour, Kelly spoke with members of the press. 
Since taking office, Kelly has championed bipartisan legislation to support law enforcement and border communities assisting with the border response. Kelly has also repeatedly raised concerns about the Biden administration's lack of preparedness and comprehensive planning to tackle the border crisis. Earlier this year, Kelly secured more than $1 billion for border security, improved border technology, Border Patrol hiring and retention, and other border management priorities. Kelly has also introduced bipartisan legislation to require DHS to develop a response plan to influxes at the border and provide $1 billion in contingency funds to carry out the plan.