PHOTOS: In Flagstaff, Sen. Kelly Meets with Local Leaders to Discuss Response to Flooding, Wildfires, and Path Forward
Yesterday, Arizona Senator Mark Kelly met with local leaders to be briefed on the recent flooding and wildfires in northern Arizona. The meeting also touched on the response, recovery, and how the funding Kelly secured through his work on the Bipartisan Infrastructure Law can provide Coconino County with additional resources to mitigate the impacts of recent wildfires and flooding in the area.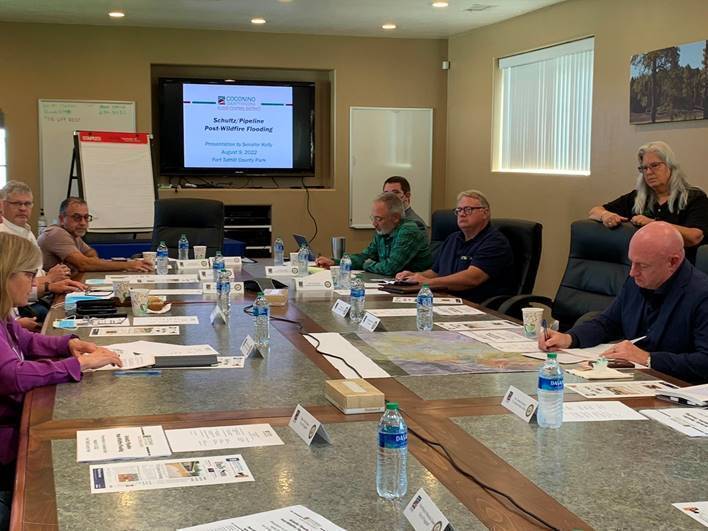 "We spoke about the impact this is having on Arizonans, and options for additional federal assistance for Coconino County to recover, rebuild, and be more resilient to fires and floods. We are grateful for the around-the-clock work of our local leaders, dedicated firefighters, first responders, and flood control crews that are managing this response. I will keep working with local leaders to ensure that Washington is getting our northern Arizona communities the support they need,"said Senator Kelly who crafted the wildfire provisions of the Bipartisan Infrastructure Law.  
Kelly was joined by Coconino County Chair Patrice Horstman, Coconino County Supervisor Lena Fowler, Coconino County Flood Control District (CCFCD) Administrator and Deputy County Manager Lucinda Andreani, CCFCD Forest Restoration Director Jay Smith, as well as Flagstaff Mayor Paul Deasy, Flagstaff Vice-Mayor Miranda Sweet and other representatives from Coconino County Flood Control District.
Kelly, a member of the Senate Committee on Energy and Natural Resources, worked with Republicans and Democrats last year to secure $8.25 billion for wildfire management and restoration. Through Kelly's leadership, a total of $188.7 million from the Bipartisan Infrastructure Law is going to Arizona to thin high-risk forests in Arizona, including Bill Williams Mountain, a priority for Coconino County. Kelly also secured $1 billion for Wildfire Community Defense Grants in the law which offers grants to cities, tribes, and private landowners to mechanically thin their lands.