PHOTOS: Sen. Kelly Highlights Infrastructure Investments in Western Water, Workforce Across Southern Arizona  
In case you missed it, this week, Arizona Senator Mark Kelly spent time in the Phoenix area and Southern Arizona, where he emphasized the western water infrastructure investments coming from the Bipartisan Infrastructure Law shaped and passed by Kelly, which will make Arizona more resilient to drought while also creating good-paying jobs in Arizona. 
On Tuesday, Kelly, joined by Secretary of the Interior Deb Haaland and other Arizona Congressional Delegation members, met with leaders of the Gila River Indian Community, where they saw the Tribe's aquifer recharge and storage projects, canal improvements, and Gila River ecosystem restoration – all projects that the Bipartisan Infrastructure Law will help accelerate thanks to historic funding.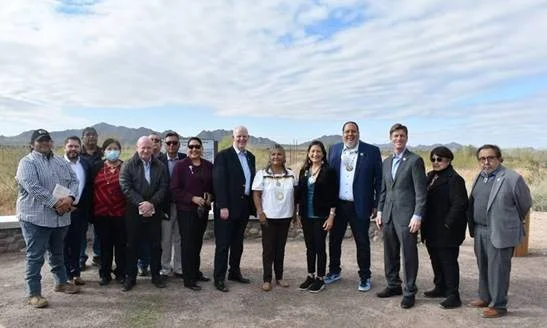 The delegation visited the Gila River Indian Community's Managed Aquifer Recharge (MAR) 5 site, an aquifer recharge project used for water storage, and Canal 13, a canal that moves water for agricultural purposes. The Bipartisan Infrastructure Law allocates $2.5 billion to complete existing tribal water settlements nationally, and the Gila River Indian Community will use some of its funding to accelerate MAR-5 and Canal 13 improvements. In addition to the Gila River Indian Community, other Arizona Tribes that will benefit from the water settlement funding are the Tohono O'odham Nation and the White Mountain Apache Tribe. 
Later, Kelly and Secretary Haaland attended a roundtable hosted by the Director of the Arizona Department of Water Resources, Tom Buschatzke, where they heard directly from Tribal leaders about the drought challenges Arizona is facing. At the roundtable, Kelly highlighted the impact that the Bipartisan Infrastructure Law is already having in helping tackle the drought in the state, and reiterated his ongoing commitment to help solve this significant challenge. As a member of the water working group that shaped the western water provisions, Kelly worked to secure $8.3 billion for western water infrastructure that will help repair aging water lines, build new storage, line dirt canals, promote desalination and water recycling technology, and restore riparian ecosystems.
On Wednesday, Kelly traveled to Southern Arizona, where he visited Sahuarita High School to tour their Career and Technical Education-Joint Technical Education District (CTE-JTED) construction technologies program. During his visit, Kelly spoke with students who are learning key skills like carpentry, design, and plumbing.  Kelly emphasized how these skills will help the nation build its key infrastructure projects created by the Bipartisan Infrastructure Law. 
Following this visit, Kelly met with Sahuarita Mayor Tom Murphy and other town leaders to discuss Sahuarita's continued growth and development and how Washington can be a strong federal partner. As more companies and families relocate to the area, broadband, quality roads, and access to water will be more and more important.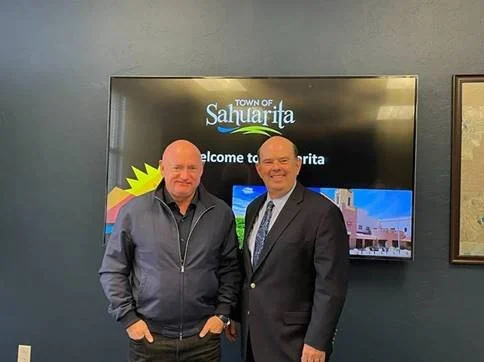 Kelly, a Navy veteran serving on the Senate Armed Services Committee, made his final stop at Hydronalix, a Maritime robotic systems company that specializes in the research and creation of extreme performance, small robotic vehicles used for rescue missions on both air and water. Kelly toured the facility and learned about Hydronalix's newest machines that are used by the U.S. Navy, the Defense Advanced Research Project Agency (DARPA), and the Domestic Preparedness Support Initiative (DPSI). As the Chair of the Subcommittee on Emerging Threats and Capabilities, Kelly has remained focused on federal investment in American research and development in defense technologies needed to maintain our country's competitive edge over adversaries like China.