Week In Review: Sen. Kelly Continues Focus on Arizona Infrastructure Investments, Job Creation
During the second week of the state work period, Arizona Senator Mark Kelly talked with Arizonans in every corner of the state about how the recent bipartisan infrastructure framework that 22 bipartisan senators, including Kelly, are working to advance will benefit Arizona, spur economic recovery from the pandemic, and help bring more high-paying jobs to the state. 
Kelly started the week meeting with constituents who sought assistance from the Senator's office navigating federal agencies like the Small Business Administration and the Veterans Administration. Constituents met one-on-one with Kelly and thanked him for his office's work to resolve their issues. One of those constituents is Gilbert Williams who submitted Veteran Survivor Benefits in January 2020 on behalf of his elderly mother. Thanks to Kelly's office, his mother was awarded the survivor benefits she was owed. Later that day, Kelly toured the Community Foundation for Southern Arizona Campus, where he learned about the Community Foundation's efforts to create an equitable and vibrant Southern Arizona community.
Kelly talks with Tucson constituent Gilbert Williams on July 6 who sought assistance with the VA.
In keeping with his focus on Arizona's economic recovery and development, Kelly traveled to Mohave County where he started the day with a tour of the Kingman Airport and Industrial Park to hear about the economic development, transportation and infrastructure needs associated with the park's proposed 1,400 acre expansion. 
After the airport and industrial park tour, Kelly met with Kingman Mayor Jen Miles, Lake Havasu City Mayor Cal Sheehy, Bullhead City Vice-Mayor Kathy Bruck, as well as Mohave County Supervisors Jen Bishop (Dist. 4) and Travis Lingenfelter (Dist. 1). Kelly heard from them about the infrastructure needs in the region, and emphasized his work to include an investment in rural Arizona in the bipartisan infrastructure framework. The group also discussed the importance of continuing the expansion of the Downwinders Act and the need to address the issues of water access and quality not only in the region, but in Arizona long-term.
Following his meeting with local leaders, Kelly made a stop at the Mohave Community College and Kingman Area Chamber of Commerce's Small Business Center as part of his focus on workforce development, especially in the wake of the pandemic recovery. Kelly then attended and delivered remarks at a ribbon cutting ceremony for the Kingman Veterans Villas, an affordable housing project in Kingman aimed at housing veterans. 
Kelly speaks with Pima County Elected Officials on July 8.
On Thursday, Kelly met with Tucson-area leaders to hear directly from them about urgent infrastructure needs that are top-of-mind for their communities. The leaders included Tucson Mayor Regina Romero, Supervisor Sharon Bronson & Chair Pima County Board of Supervisors, Marana Mayor Ed Honea, Oro Valley Mayor Joe Winfield, Sahuarita Council Member Deborah Morales, South Tucson Mayor Bob Teso, and Pima College Vice Chancellor David Dore. The group came together to discuss urgent infrastructure needs throughout the region such as repairing roads, expanding broadband access, and modernizing ports of entry.
Kelly before flying an AH-64 Apache helicopter on July 9.
On Friday, Kelly made stops in Phoenix to round out his focus on infrastructure investments, economic recovery, and job creation. Kelly toured Boeing's Mesa campus, home to the company's Global Security Operations Center, where he learned about their work on the development of rotorcraft technologies, production of electrical subassemblies and satellite network support. During the visit, Kelly, a former Navy combat pilot and NASA astronaut, flew an Apache helicopter (AH-64), an aircraft that remains critical to Large Scale Combat Operations (LSCO).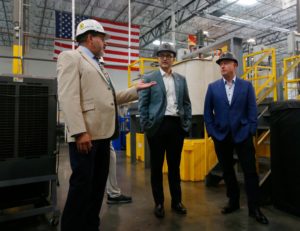 Kelly tours Urbix Resources on July 9.
Later, Kelly toured Urbix Resources, an Arizona company, as part of his focus on investing in high-tech jobs. Lastly, Kelly met with Goodyear Mayor Georgia Lord to discuss infrastructure investments in the West Valley, as well as the importance of investments in microchip manufacturing which Kelly has championed in the Senate. 
Kelly meets with Goodyear Mayor Georgia Lord on July 9.