WATCH: Senator Kelly Questions Top Defense Officials on Afghanistan Withdrawal in Senate Armed Services Hearing
Today, Arizona Senator Mark Kelly, a 25-year Navy veteran and member of the Senate Armed Services Committee, raised concerns over the United States' planning for withdrawal and evacuation from Afghanistan. He also asked the witnesses, Secretary of Defense Lloyd Austin, Chairman of the Joint Chiefs General Mark Milley, and the leader of the United States Central Command, General Kenneth McKenzie, about the ability of the United States to deter terror threats from the country moving forward.
Kelly had previously criticized the execution of the withdrawal, noting it "reveal[ed] a failure to prepare for a scenario where the Afghan government and military would refuse to fight the Taliban's advances when put to the test." In today's hearing, Kelly insisted on accountability and asked General McKenzie how the U.S. plans to deter terrorist threats in the region.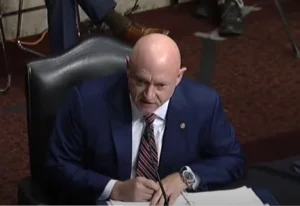 Kelly speaks in this morning's Senate Armed Services Committee hearing.
You can watch Kelly's full exchange with General McKenzie here, and read the transcript below: 
[0:01]: Thank you, Mr. Chairman. Mr. Secretary, let me begin by expressing my gratitude to each of the over 800,000 Americans, many of them Arizonans, who served in Afghanistan over the past twenty years, and to their families. 
I also commend our servicemembers' support of one of the largest airlifts in our country's history. We will never forget the achievements of the men and women who worked 24/7 in Kabul, managed impossible conditions on the ground, and above all those who made the ultimate sacrifice protecting innocent civilians. 
124,000 people are safe today because of American troops and diplomats. 
Still, after decades of conflict, 2,500 American soldiers killed, and billions invested in security cooperation, the American people deserve to know why the Afghan government and security forces collapsed in a matter of days. And how there was a failure to prepare for this scenario and ensure that our people were out of the country before it fell. 
And I think we've established here that the withdrawal and evacuation did not account for real world conditions and that the intelligence was flawed.
The United States wields incredible power as a global leader and our accountability must match our influence. 
For our own national security, and for each of those who served in Afghanistan during our longest war, we must understand what happened, but also look forward to ensure that our posture allows us to provide for our national security and prevent Afghanistan's use as a base for terrorist activity. So I want to transition and look forward, and not ask you questions that you've already answered.
General McKenzie, America's armed forces have been on the front lines fighting terrorists for the past twenty years. During this time Al-Qaeda and other terrorist organizations have been degraded. While our military presence in Afghanistan has ended, our commitment to fighting terrorism has not.
With our withdrawal complete, the Afghan government collapsed, and the Taliban seeking to fill the power vacuum left behind, how is Central Command postured to prevent terrorist organizations from gaining strength in the region? 
[2:44]: Senator, probably the details of this would be best left to the classified session, which we will have later this afternoon. But I would tell you that I have today, headquarters that has the ability to look into Afghanistan, albeit limited, and we have the ability to fuse the different disciplines of intelligence to look particularly at ISIS-K and Al-Qaeda. We are still refining that, the best practices on that, but we do have a way forward. I have told this committee before, it is very hard to do this, it is not impossible to do this. 
[3:12]: Well I'm looking forward to seeing those details in the closed hearing. Are you confident that we can deny organizations like Al-Qaeda and ISIS the ability to use Afghanistan as a launch pad for terrorist activity? 
[3:28]: I think it's yet to be seen. I think we are still seeing how Al-Qaeda and ISIS are configuring themselves against the Taliban. We are still seeing what the Taliban is going to do. So I think it's early. I would not say I'm confident that it's going to be on the ground yet. We could get to that point but I don't yet have that level of confidence 
[3:46]: And you might have to share this in the closed hearing but do you have the resources necessary to accomplish this even as our national security pivots towards great power or near peer threats like China and Russia that are seeking to expand their influence and compete with our military?
[4:06]: Senator, I'll just say I'm in a constant dialogue with the Secretary about requirements at CENTCOM, and I'll give you some more details in the closed session.
[4:15]: Ok, well thank you. And I know you can't go into much detail about the analysis that led to the August 28 drone strike in Kabul in this open setting, but I would like to note my serious concerns and give you the opportunity to make any comment on how the American people can know that the military will be able to adequately assess targets before conducting future strikes and operations, even as we have even fewer local intelligence and surveillance resources to leverage. 
[4:45]: Senator, again, the matter is under investigation but what I can tell you broadly, to restate some things I said earlier, I am responsible for that. It happened in my area of responsibility. So I am the responsible officer for that strike. Moreover, I was under no pressure, and no one in my chain of command below me was under any pressure to take that strike. We acted based on the intelligence read that we saw on the ground. We acted several times on intelligence that we saw and we were successful in other occasions in preventing attacks. This time, tragically, we were wrong. And you're right to note, as we go forward, and our ability to create what we call the ecosystem that allows you to see what is going on the ground and put all that together, it's going to get a lot harder to do that particularly in places like Afghanistan, but I can share a little more with you later. 
[5:27]: Thank you, General.