WATCH: Sen. Kelly Presses Shell Oil Executive on Increasing Domestic Production to Lower Gas Prices 
Kelly on Russian Oil Ban: "John McCain used to say Putin's Russia is a giant gas station pretending to be a real country"
Yesterday, Arizona Senator Mark Kelly pressed a senior executive from Shell USA on increasing domestic oil and gas production during a Senate hearing on American energy security. Citing record high gas prices, Kelly called for the executive to provide more details on the company's plan and needs to boost production in the Gulf of Mexico. According to the American Automobile Association (AAA), rising gas prices have brought the average price of gasoline in Arizona up to $4.55 a gallon.
Over the last few months, Kelly has been at the forefront of efforts to lower costs for Arizona families, especially at the gas pump. Even before Russia's illegal invasion of Ukraine, Kelly called on the Biden administration to take measures to increase domestic energy production and introduced legislation to suspend the federal gas tax until the end of the year.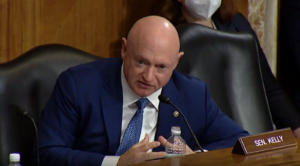 Sen. Kelly addresses witnesses during a hearing of the Committee on Energy and Natural Resources on March 10.  
At the hearing, Kelly also asked Jonathan Elkind, a senior research scholar from Columbia University, about the importance of diversifying the country's energy sources and monitoring environmental practices. Earlier this month, Kelly helped lead a bipartisan effort to ban imports of Russian energy products to ensure the United States does not fund Vladimir Putin's illegal invasion of Ukraine. Russia is the world's third-largest producer of petroleum, and the U.S. ban on Russian energy has highlighted the importance of American energy independence.
You can watch the full exchange HERE. See transcript below.  
Kelly: Thank you, Madam Chairwoman. Ms. Hirstius, I want to follow up on Senator Lee's and Senator Cortez-Masto's questions here. So, like everywhere else in the country, my state, Arizona, folks are paying way too much for a gallon of gas. It's really hurting families. They're having to make some really tough decisions. 
I'm one who believes that we currently need an all-of-the-above strategy that includes increased domestic production of crude oil. 
You mentioned this is a crisis. We need urgent action. Now, you started to outline a couple of the, I'd say, more global options here, but I want to hear specifically from you more about your company's plans to increase production here in the United States. 
How much more can you increase it? When can you do it? And do you think you'll be successful?
Ms. Colette Hirstius: Thank you, Senator Kelly. Yes, I think we'll be successful. But let me describe a bit of what it looks like to be successful in that growth. Our largest production comes from the Gulf of Mexico. In the Gulf of Mexico, we have a 15 to 20% average decline rate. That means if we just continue to produce from the wells and reservoirs that we have, year-on-year that production will decline by 15 to 20%.
And that just has to do with the dynamics of the reservoirs from which we produce. In order to maintain flat, we need to continue to drill wells and we need to continue to acquire seismic data and we need to continue to acquire leases that allow that conveyor belt of activity to continue and that will sustain our production. 
So, this year will be bringing on a new field in the next couple of weeks. That's new growth, new production that will come online very soon. We have ten rigs that we continue to run across the Gulf of Mexico that continuously drill exploration and development wells to make sure that we are replenishing against our total production. We have a new platform, Vito, that has just sailed into the Gulf of Mexico. It's sitting on Texas shores, being fitted out with the final fittings and will sail out into the Gulf of Mexico so that it can begin producing either late this year or early next year are what our ambitions are. So there are many things that we continue to progress to make sure that we are maintaining the production and adding new production day in and day out.
Kelly: A year from now, where do you think you'll be as a percentage compared to where you are today? 
Ms. Colette Hirstius: So, percentage wise, because we have this decline, our objective is to remain about flat. Now, the levers that we have to significantly increase production, we were talking about oil and gas production, as Mr. Elkind described, is really the flexibility that we have onshore. We can bring production on stream from our onshore activities more quickly than we can in, say, the deepwater Gulf of Mexico. 
Kelly: Okay. Well, please let us know what you need from us to facilitate that. Thank you.
Mr. Elkind, Senator John McCain used to say, and I love this quote, "Putin's Russia is a giant gas station pretending to be a real country." On Tuesday, the president signed an executive order banning imports of all Russian fossil fuels. I supported that as one of ten members of this committee. We proposed legislation to do that, and he took those steps. 
Mr. Elkind, I'd like to get your thoughts on how American energy production compares to Russia's, environmentally. And Senator Lee alluded to this. 
So, for example, the International Energy Agency reports that Russia's oil and gas production is about 30% more methane-intensive than the United States'.
Does Russia's fossil fuel sector, which is, as I think we all know, rotten with corruption, have environmental monitoring and enforcement practices anywhere close to that of the United States'?
Mr. Jonathan Elkind: Senator, thank you for that question. I don't think that looking at the history of the Russian oil and gas industry, the first feature you would call out would be the environmental performance of it. This, in fact, is one of the downsides of the withdrawal of the major international oil companies from their activities there, is that also what will go away is some of that environmental performance that is core to their operations.
Now, having said that, in the United States, we have a big honking problem, and that's called methane emissions. Yes, I think it is a reasonable suspicion to say that Russia's methane emissions exceed those of our own.
But if we want for our LNG to be purchased on global markets, as I do, we need to make sure that we are able to improve and radically reduce the methane emissions from the value chain. This is an area of huge unfinished business that needs to be attended to, sir. 
Kelly: All right, well, thank you. We certainly agree. We need to work on that. Thank you, Madam Chairwoman.