Sen. Mark Kelly on the Senate Bipartisan Infrastructure Agreement
Today Arizona Senator Mark Kelly released the following statement on the bipartisan Senate vote to advance the bipartisan infrastructure deal which would make historic investments in critical water and transportation infrastructure upgrades in Arizona and around the country. Kelly presided over the Senate during the vote this evening.
"For months, I have worked with Republicans and Democrats to secure Arizona priorities in this historic bipartisan infrastructure agreement that will fix our roads and bridges, bring high-speed internet to communities that need it most, and improve western water infrastructure and forest management, making Arizona more resilient to drought and wildfires," said Senator Mark Kelly. "Today we are one step closer to bringing Arizona's economy into the future. This agreement is an important investment in Arizona and our country. I look forward to the continued work to bring this legislation across the finish line."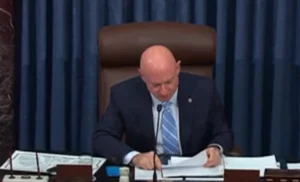 Kelly presides over the Senate as it votes to advance debate on the bipartisan infrastructure legislation.
Kelly, one of the core members of the Senate bipartisan group that reached a deal on this historic framework, has maintained a focus on passing key infrastructure legislation in the Senate. As part of the bipartisan group, Kelly has been involved in crafting the details of the legislation focused on water and power infrastructure. Kelly is also a member of the Senate Environment and Public Works and Energy and Natural Resources Committees, where he has shaped surface transportation, drinking and wastewater, and western water and power legislation that is forming the backbone of the bipartisan infrastructure framework.