Sen. Kelly Visits Taiwan to Deepen Economic Ties and Highlight Investment Opportunities in Arizona
Kelly joined the Greater Phoenix Economic Council on the trip and met with TSMC executives, suppliers
Kelly was a chief negotiator of the CHIPS and Science Act and successfully attached his Building Chips in America Act to streamline permitting processes into the Senate-passed NDAA
As part of his push to deepen economic ties with Taiwan and bring investment to Arizona, Arizona Senator Mark Kelly joined the Greater Phoenix Economic Council (GPEC) on a trip to Taiwan this week. Kelly met with top executives across multiple industries, toured TSMC's facilities, and joined for the signing of an agreement between GPEC and Startup Island Taiwan that creates a pathway to help Taiwanese startups expand operations into Arizona. In Taiwan, Kelly talked about Arizona's strong workforce and history of innovation and emphasized the role of his Chips and Science Act in boosting chip manufacturing in the United States. During his trip, Kelly also highlighted his Building Chips in America Act, a bill he successfully attached to the Senate-passed National Defense Authorization Act (NDAA) that would streamline permitting for microchip facilities. 
To start off the trip, Kelly visited the Taiwan Semiconductor Manufacturing Company Ltd. Co. (TSMC) where he met with leadership to discuss concerns raised about their Arizona site and encourage more collaboration and investment in workforce development. The senator also visited one of TSMC's advanced fabs, toured a manufacturing facility in Hsinchu Science Park — which serves as TSMC's global headquarters — and saw their water treatment operations. 
Later, Kelly participated in a roundtable organized by SEMI Taiwan where industry leaders and TSMC suppliers discussed CHIPS Act programs, planned investments in Arizona, and the strong business climate in the state. 
Next, Kelly visited the Taiwan Space Agency (TASA) and met with TASA officials to learn about their space initiatives, discuss collaboration, and encourage their space startups to consider setting up operations in Arizona. 
Kelly also attended a memorandum of understanding (MOU) signing ceremony between Startup Island TAIWAN and the Greater Phoenix Economic Council (GPEC) where he spoke about the close cooperation and partnership in technology and innovation between Taiwan and Arizona. The agreement will foster collaboration between the two organizations and create a pathway for startups funded through Startup Island Taiwan to establish operations in Arizona.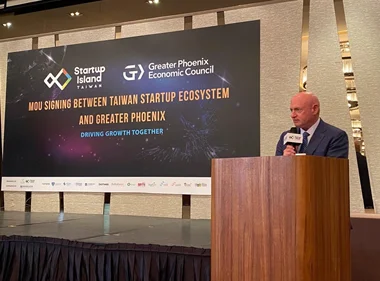 Finally, in order to continue attracting investment interest to the state, Kelly met with Taiwanese aerospace executives and talked about Arizona's rich history and leadership in aviation.