PHOTOS: Sen. Kelly Testifies with Arizona Tribal Leaders as His Tribal Water Bills Heard in Senate
Today Arizona Senator Mark Kelly joined White Mountain Apache Chairwoman Gwendena Lee-Gatewood and Colorado River Indian Tribes (CRIT) Chairwoman Amelia Flores to testify in support of his legislation promoting tribal self-determination  in water management and drought resiliency in Arizona.   
Kelly appeared before the Senate Committee on Indian Affairs to advocate for the Colorado River Indian Tribes Water Resiliency Act of 2021, which would enable the Colorado River Indian Tribes to transfer their water off-reservation for water storage, habitat restoration, and to Arizona communities affected by drought.  The bill is supported by environmental organizations, local governments, farmers, and business groups in Arizona.
Kelly's other bill, the White Mountain Apache Tribe Water Rights Quantification Act of 2010, would extend a congressional deadline to complete the White Mountain Apache Rural Water System and Miner Flat Dam Project.
"The West is dealing with the real-time effects of the worst drought in 1,200 years," said Senator Mark Kelly. "This issue is a priority for me because Arizona is on the frontlines of this mega-drought. And in many instances, tribal nations are among the most vulnerable to its effects.  At the same time, tribes hold significant water rights that can position them to lead on water conservation and drought management. Watch his testimony here.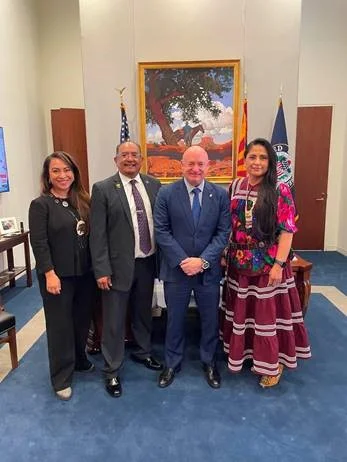 Kelly has continued to champion legislation in the Senate that strengthens access to clean, reliable drinking water for tribes, businesses, and Arizonans across the state. The recently passed Kelly-shaped Bipartisan Infrastructure Law fully funds existing Indian Water Rights Settlements as well as $3.5 billion for tribal water, sanitation infrastructure, and resiliency projects. 
Last summer, Kelly worked with Republicans and Democrats to draft the water infrastructure portions of the Bipartisan Infrastructure Law which included full funding of the Lower Colorado River Drought Contingency Plan to assist tribal and state efforts to conserve water in Lake Mead.