PHOTOS: Sen. Kelly Inducted into Astronaut Hall of Fame 
Today, Arizona Senator Mark Kelly was inducted into the Astronaut Hall of Fame (AHOF) at the Kennedy Space Center in Cape Canaveral, Florida. During the ceremony, Kelly was recognized for his substantial contributions to NASA's mission of exploration and discovery.
Kelly was first selected as a NASA astronaut in 1996 alongside his twin brother, Scott Kelly—a 2021 AHOF inductee. Kelly has logged more than 50 days in space and traveled more than 20 million miles during his four trips to space—twice as pilot and twice as shuttle commander.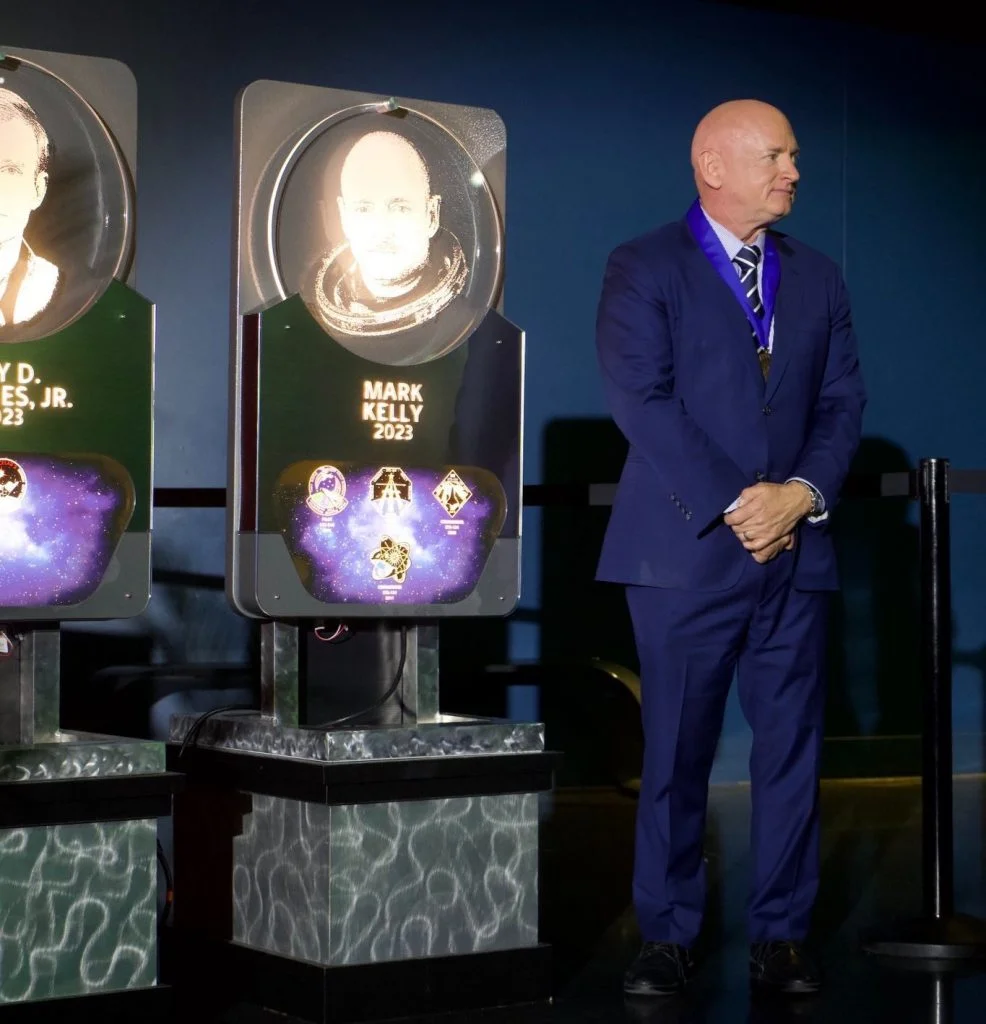 Read key excerpts from Sen. Kelly's speech at his AHOF induction ceremony below:
"I'm grateful to be born in a country where the sons of two police officers, who watched the Apollo missions from their living room floor, can go on to reach the heights of the world's greatest space program."
"They had no idea they were raising two astronauts, but they raised us to value public service, and my mom in particular set an example of hard work and dedication that inspired my brother and me to pursue our dreams."
"Receiving this honor, I can't help but to reflect on the journey here, from the U.S. Merchant Marine Academy, to flying in the Navy in Operation Desert Storm, to becoming a test pilot, and eventually getting that call that I'd been selected as an astronaut."
"I had a dream when I was a kid that I could be the first person to walk on the planet Mars. I didn't quite make it, but I believe that person is alive today. They could be in elementary school, or completing college, or maybe even sitting in this audience—time will tell. But just as always, NASA's arrow is pointed up, towards the stars. As it should be. And I'll support these ambitions from my new job in the United States Senate, where I have the honor of representing the State of Arizona."
"To have played a small part in the world's greatest space program is a privilege. To have been singled out for this recognition is a true honor."
Click HERE for additional photos of Sen. Kelly's induction and time at NASA. 
Sen. Kelly was inducted alongside Roy Bridges as the Hall of Fame's 24th class, bringing the total number of inductees to 107. Sen. Kelly is the fourth astronaut elected to serve in the U.S. Congress and second U.S. Senator to be inducted into the Astronaut Hall of Fame, after John Glenn. He is also a former Navy pilot and combat veteran who flew 39 combat missions in Operation Desert Storm.