PHOTO: Sen. Kelly Urges Collaboration, Need to Protect Water Future at Colorado River Water Users Association Conference
Kelly is the first active serving member of Congress to address the annual CRWUA conference
Today, Arizona Senator Mark Kelly, a member of the Senate Committee on Energy and Natural Resources, addressed leaders and water officials at the annual Colorado River Water Users Association (CRWUA) conference in Las Vegas, Nevada. In his remarks, Kelly, who has led and ushered into law major legislation to combat western drought, emphasized the urgent need for Colorado River Basin states to find consensus on a water-sharing agreement that protects the River system serving 40 million Americans. In his remarks, Kelly also highlighted the critical role that tribal communities play in helping Basin states and the federal government protect the River system.
"…We know that inaction is not the answer. And insufficient action will mean serious consequences for the entire [Colorado River] Basin. Because if a solution is not developed by the Basin, Commissioner Touton will figure it out for us. And as much as I enjoy working with the Commissioner, I think it's better for everyone if the federal government doesn't make these tough decisions. That sentiment is shared by many of my Senate colleagues. No matter what Basin state we represent, we all want water users to take the lead," said Senator Kelly during his remarks at the CRWUA conference.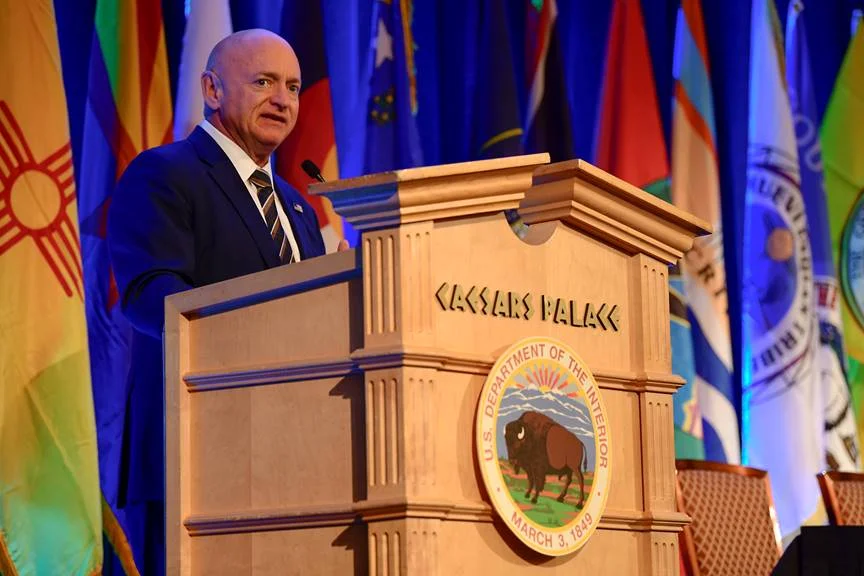 In the Senate, Kelly has broken through partisan gridlock to deliver on his commitment to strengthen and protect Arizona's water future. Recently, Kelly negotiated and secured $4 billion to combat western drought in the Inflation Reduction Act now law. The Department of Interior used that Kelly-secured funding to launch a new drought mitigation program that will improve water efficiency and protect Lake Powell and Lake Mead's reservoirs from falling to critically low levels. Kelly has also continued to push the Biden administration to use every tool at its disposal to protect Arizona farmers, cities, tribes, and businesses from the impacts of this historic western drought.
Read Kelly's full remarks as prepared for delivery HERE.