PHOTO: Sen. Kelly Meets with Chicanos Por La Causa Ahead of the 10th DACA Anniversary
Today, Arizona Senator Mark Kelly met with members of Chicanos Por La Causa (CPLC) who traveled from Arizona to Washington, D.C. ahead of the 10-year anniversary of Deferred Action for Childhood Arrivals (DACA). Kelly is a supporter of the DREAM Act of 2021, a bipartisan bill that would allow Dreamers to earn lawful permanent residence and a pathway to citizenship.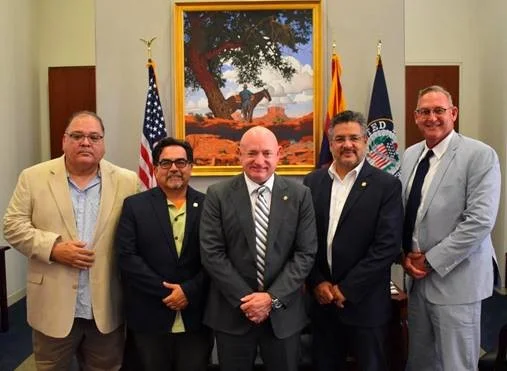 "It was great to meet with CPLC leaders to discuss the 10th anniversary of DACA, a program that has allowed so many young Arizonans to launch careers, start their families, and serve our country," said Senator Kelly. "This anniversary reminds us that Dreamers have been waiting far too long for certainty and a pathway to citizenship. I remain committed to working with Republicans and Democrats in the Senate to find a path forward."
"I'm grateful to Senator Kelly for taking the time to meet with us today. His support for our immigrant communities, including Dreamers, does not go unnoticed. We appreciate his continued support," said David Adame, President and CEO of Chicanos Por La Causa.