Over $11.4 Million Investment Coming to Arizona for 52 Clean School Buses from Bipartisan Infrastructure Law
Infrastructure Investment and Jobs law led by Sinema and shaped by Kelly provides historic investments for clean school buses without raising taxes on everyday Arizonans
$11,415,000 will be invested in 52 Arizona clean school buses from the bipartisan Infrastructure Investment and Jobs law led by Senator Kyrsten Sinema and shaped by Senator Mark Kelly.
This investment, disbursed by the Environmental Protection Agency to Arizona, will provide rebates for 52 clean school buses – 27 electric and 25 propane – for safer, cleaner, and cost-effective transportation for Arizona children riding school buses.
"Thanks to our Bipartisan Infrastructure Law, the funding we secured will ensure Arizona schools can continue to provide students with school bus services while also making our air cleaner with zero-emission and low-emission buses," said Senator Mark Kelly.
"We're keeping Arizona children safe through cleaner and more reliable school transportation – giving peace of mind to Arizona parents knowing that their children are safe in these newer, safer buses," said Sinema, lead negotiator and co-author of the bipartisan Infrastructure Investment and Jobs law.
Below are the Arizona recipients: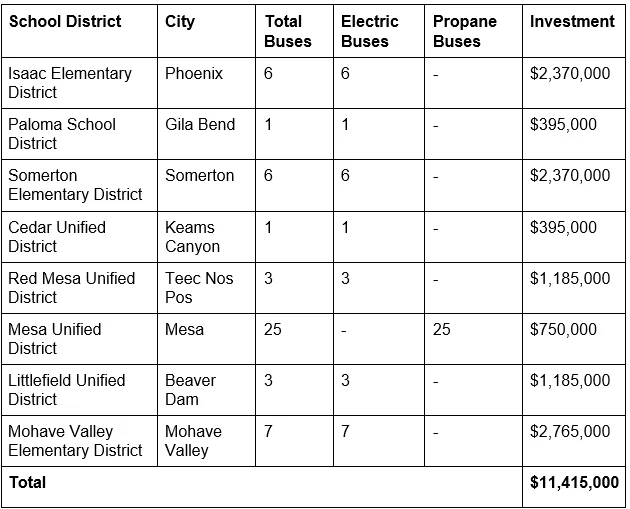 Sinema and Kelly's Infrastructure Investment and Jobs lawmakes the strongest investment ever in American public transit with $39.2 billion to expand transit systems, increase accessibility, and fund the nation's transit system repair backlog, estimated at more than 24,000 buses; 5,000 rail cars; 200 stations; and thousands of miles of track, signals, and power systems—and the biggest investment in passenger rail since the creation of Amtrak. Earlier this year, Sinema and Kelly announced that $176 million would be invested in Arizona public transportation this year alone.
Sinema led bipartisan Senate negotiations with Republican Senator Rob Portman of Ohio that included Senator Kelly and senators from both parties.
The bipartisan infrastructure law was supported by groups including The U.S. Chamber of Commerce, Business Roundtable, The National Association of Manufacturers, The AFL-CIO, The National Retail Federation, The Bipartisan Policy Center, North America's Building Trades Unions, the Outdoor Industry Association, The American Hotel and Lodging Association, The National Education Association, as well as hundreds of mayors across all 50 states.