Kelly, Moulton, Cramer, Miller-Meeks, Lesko Reintroduce Brandon Act to Change DoD Mental Health Policy, Pay Tribute to Fallen Navy Sailor Brandon Caserta
The bill named in Brandon Caserta's honor would create "Brandon Act" reporting, making it easier for service members to seek mental health care confidentially 
Today, Teri and Patrick Caserta joined Senator Mark Kelly (D-AZ), Representative Seth Moulton (D-MA), Senator Kevin Cramer (R-ND), Representative Mariannette Miller-Meeks (R-IA) and Representative Debbie Lesko (R-AZ) to reintroduce the "Brandon Act," legislation named in honor of their son, fallen United States Navy Petty Officer Third Class Brandon Caserta. The Caserta family joined lawmakers to announce the bill's reintroduction at a press conference in front of the United States Capitol Building.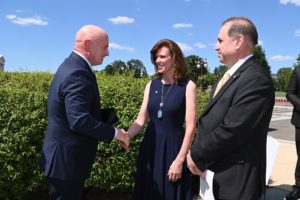 Teri and Patrick Caserta of Peoria, Arizona, parents of Brandon Caserta, continue to advocate for better support for servicemembers who need access to mental health care without retaliation. The Brandon Act would allow service members to confidentially seek mental health treatment by using a safe word, "Brandon Act." It is designed to protect service members who experience mental health emergencies. If the Brandon Act becomes law, it would allow Americans serving in uniform to seek help confidentially and, if necessary, outside of the chain of command. 
"Brandon had a smile that lit up a room. You couldn't help but smile when you saw him. He was always there for anyone who needed to talk or needed help. He was a very charismatic and upbeat young man. He made everyone's day better no matter what they were going through. Brandon has always helped everyone he could. The Brandon Act would do this for his fellow service members in his death," his parents, Teri and Patrick Caserta said. "Brandon did not die in vain and his legacy for helping others will continue long after his death when The Brandon Act is passed."
Representative Seth Moulton, the bill's author, said: "Every American, especially our heroes in uniform, deserves mental health support at work. Because of Teri's and Patrick's advocacy, the families of other service members will not have to share their experience. By passing this bill, Congress can empower service members to quickly get help in an emergency as soon as they confide in someone else that they need it. If this were the case for Brandon, he would still be alive today. I will do my part to make sure his legacy lives on through his parents' life-saving bill."
Senator Mark Kelly said: "As we approach the three-year mark of Brandon Caserta's death, I am proud to honor his service by introducing the Brandon Act, which would ensure that servicemembers can quickly access mental health care without fear of retaliation. We owe it to our servicemembers, and to Brandon, to address the issue of military suicides head on. With the help of the courageous Caserta family, and bipartisan support in Congress, this important legislation could save the lives of other young servicemembers who seek mental health assistance."
"Mental health resources should be readily available for any active duty service member who wants it, but the current system requires them to go through their chain of command, even if that leadership is part of the reason they are seeking help," said Senator Cramer. "Our bill pays tribute to fallen U.S. sailor Brandon Caserta, whose death by suicide prompted an investigation which found constant bullying and toxic leadership in his squadron were the reasons he decided to take his own life. It allows service members to get the important assistance they need without fear of reprisal or an increased threat to their personal safety caused by rogue actors within the military."
"It is heartbreaking that bullying and abuse in Brandon Caserta's squadron led to his suicide. In 2020, suicide by servicemembers rose to 571, a 13.5% increase from 2019," said Representative Miller-Meeks. "As we have learned from the COVID pandemic, mental healthcare is extremely important, and we must ensure those who risk their lives for our country have the ability to get care when needed without undue burden. The Brandon Act can help prevent death by suicide for servicemembers by providing a confidential channel for them to self-report mental health issues and help remove stigma from seeking mental health services."
Representative Lesko: "I am proud to once again be an original cosponsor of the Brandon Act to honor former 8th Congressional District resident, fallen U.S. Navy Petty Officer Third Class Brandon Caserta. It has been a privilege to get to know Brandon's parents, Patrick and Teri, who live in my district and work with them on this important legislation. We must ensure that our service members have access to mental health services without fear of persecution or retaliation."
Brandon Caserta died by suicide on June 25, 2018 on the flight line at Naval Station Norfolk, Virginia. After his death, his parents and friends discovered six notes in which Brandon attributed his suicide to persistent hazing and bullying from some members and leaders of his Navy helicopter squadron. Next week marks the three-year anniversary of his death.
The Brandon Act expands the existing law that regulates how service members are referred for mental health evaluations, in order to provide a confidential channel for service members to self-report mental health issues. The process would protect the confidentiality of service members, similar to the restricted reporting option that protects victims of sexual assault. 
The Brandon Act is supported by several original cosponsors, including: Representative Joseph Morelle (D-NY), Representative Chrissy Houlahan (D-PA), Representative  Kaialiʻi Kahele (D-HI), Representative Gwen Moore (D-WI), Representative Eleanor Holmes Norton (D-DC), Representative Judy Chu (D-CA), Representative Debbie Lesko (R-AZ) and Representative Marilyn Strickland (D-WA). Senator Dick Durbin (D-IL) is an original cosponsor of the companion bill in the Senate.
The Veterans Crisis Hotline is staffed 24 hours a day, seven days a week, and can be reached by calling (800) 273-8255, press 1. Services also are available online at www.veteranscrisisline.net or by text, 838255.
The National Suicide Prevention Lifeline provides 24/7, free and confidential support for people in distress, prevention and crisis resources for you or your loved ones, and best practices for professionals. Find more information about the Lifeline at suicidepreventionlifeline.org or call directly by dialing (800) 273-8255.
You can also text TALK to 741741 to text with a trained crisis counselor for free, 24 hours a day, 7 days a week.