IN THE NEWS: Sen. Kelly Secures Major Funding for Arizona Projects in Government Funding Bill 
In case you missed it, Arizona Senator Mark Kelly secured key Arizona priorities in this year's government funding bill, which was recently signed into law and will fund the government until the end of the fiscal year. The new law will create good-paying jobs, improve border security, strengthen our national defense, boost workforce training programs, make higher education more affordable, and provide more humanitarian and military aid to Ukraine. 
It also includes dedicated funding for Arizona projects Kelly secured through Congressionally Directed Spending (CDS) requests. The projects will better equip law enforcement, invest in job-training programs, upgrade water infrastructure, expand access to healthcare, and more.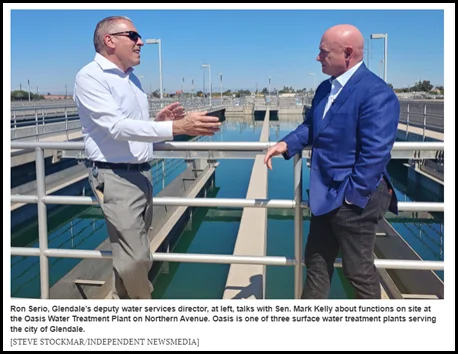 See highlights of the coverage below:
Havasu News: Lake Havasu City Police station gets $1.78M from Congress
The federal government has agreed to chip in to help pay for repairs and upgrades to Lake Havasu City's police station and jail, along with a couple other projects in Mohave County, as part of a $1.5 trillion budget bill that will fully fund the federal government for the remainder of the fiscal year. […]
"After working together with local leaders in Lake Havasu City, we were able to deliver this much-needed funding that will upgrade the police station and ensure that law enforcement has the resources they need to keep the residents and visitors who fuel Lake Havasu's economy safe," said Sen. Mark Kelly (D-Arizona).
Havasu has been working with Kelly's office since June to obtain the federal funding for the project. According to a press release from Kelly's office, Havasu's police station and jail is one of 50 projects throughout the state that Kelly and fellow Arizona Democrat, Sen. Kyrsten Sinema, helped secure Congressionally Directed Spending for as part of the budget bill – totaling nearly $91 million statewide. […] 
Nogales International: Feds grant $500K for study on potential DeConcini overhaul
…And, tucked into the spending plan is $500,000, allocated for a study on DeConcini. The study will be conducted under the U.S. General Services Administration, according to the offices of Arizona Sens. Kyrsten and Mark Kelly, who said they also pushed for the allocation. The latter visited the port last summer.
"After hearing directly from local leaders and businesses in Nogales, and experiencing the wait times to cross at DeConcini firsthand, it's clear that the port's facilities could benefit from upgrades," Kelly said in a statement to the NI.
The news comes about a year after the Santa Cruz County Board of Supervisors penned a letter to U.S. Customs and Border Protection, requesting the study in order to move ahead with a modernization plan. In the February, 2021 letter, supervisors cited a consistent decline in pedestrian crossings at DeConcini. […]
Kingman Daily Miner: Mohave County lands $1M for Bank Street storm drainage project
Sen. Mark Kelly secured $1 million for the Bank Street Drainage Project as requested by Mohave County to help with drainage in front of Kingman High School.
As part of the Congressionally Directed Spending Requests, Mohave County Development Services was awarded the request to implement drainage infrastructure through the $1.5 trillion spending bill. The project will redirect stormwater to the Mohave Channel to help with surface runoff and flooding along Bank Street and north of Gordon Avenue.
Mohave County Manager Sam Elters said while multiple projects were sent to Kelly, this particular one was at the top of the list due to the impact it will have on the safety of students, drivers and neighboring businesses.
"This project has been identified as a needed project for a long time, and it was lack of funding that kept it from being delivered," Elters said. "And we are truly grateful for Sen. Kelly's support to make it a reality."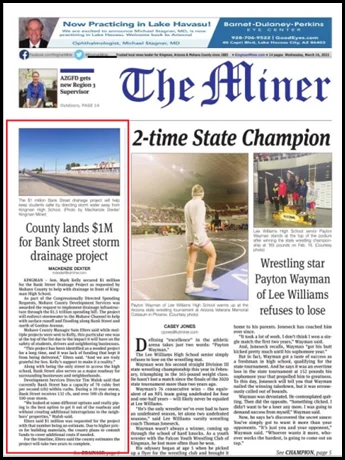 Casa Grande Dispatch: Federal money to help Sun Life Health expand training program in CG
With $6 million in federal funding, Sun Life Health plans to expand its educational programs, training the next generation of health care providers. […]
The money is provided by the fiscal year 2022 federal omnibus funding bill, which passed last week.
In addition to the Sun Life funds, U.S. Sen. Mark Kelly secured more than $8 million in funding from the bill for Pinal County, a press release from his office said. […]
"Receiving this funding is a huge success for the health care community in Arizona," said Dr. Eddie Estrada, CEO of Sun Life Health. "We are thankful Senator Kelly believes in this project to develop an educational hub to develop the next generation of health care workers. The economic impact of this project is tremendous for Arizona and Casa Grande. We can't wait to develop the training center to increase the qualified health care workers in Arizona."
Univision: Anuncian fondos para nueva clínica comunitaria en Glendale que podría estar lista en 2023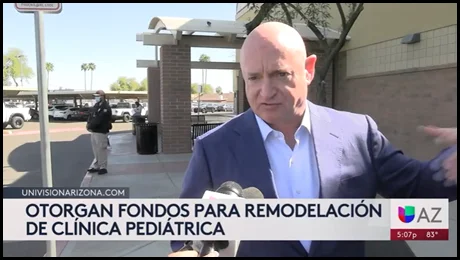 El senador demócrata por Arizona Mark Kelly analizó los planos de lo que será una nueva clínica comunitaria en el valle para continuar brindando cuidado médico a las poblaciones más necesitadas. El proyecto tendrá un costo total de 5 millones de dólares.
Payson Roundup: County projects included in federal budget bill
"A $472,000 federal grant to pave the Young Road and a $609,000 grant to battle wildfires in Gila County are the latest local benefits flowing from the return of congressional earmarking, in which representatives can prioritize funding for local projects.
Arizona Sens. Kyrsten Sinema and Mark Kelly both put out press releases this week calling attention to local projects they won for Gila County in the most recent federal budget bill. The projects will take years to complete, but the funding kick starts a long list of improvements. […]
The earmarks also included several projects in Globe and other counties throughout the state. That includes a $2 million Workforce Entrepreneurship and Innovation Center in Superior to stimulate new businesses and train employees, a $100,000 project to repair a century-old earthen tunnel in the McCormick Wash and a $2 million sewer line replacement in Hayden. […]"
Yuma Sun: Federal funds earmarked for Yuma projects
A $1.5 trillion federal spending bill passed by Congress and signed by President Biden contains wins for the Yuma area.
Arizona Sens. Mark Kelly and Kyrsten Sinema announced that major Arizona priorities are included in the final omnibus budget bill, which funds the federal government through the end of the fiscal year.
Some of the funding going toward Yuma includes $29.3 million for the Marine Corps Air Station and $1.5 million for the Yuma Multiversity Campus program.
In addition, the senators secured funding for improved border security technology, Border Patrol hiring and retention, and non-governmental organizations that work with migrants. […]
Your Valley Glendale: Glendale, Peoria, Phoenix join forces to share water in an emergency
 . . .Major Arizona priorities were included in the $1.5 trillion omnibus spending bill for fiscal year 2022 that President Joe Biden signed into law this month. Among them was $2 million to the city of Glendale for the water supply interconnects, through Congressionally Directed Spending requests made by Senators Mark Kelly and Kyrsten Sinema.
 On the local level, intergovernmental agreements were next. Glendale's IGA with Phoenix passed more than a month ago, and an IGA with Peoria will pass in the next month or so. In the end, ownership breaks down to 56% to Glendale and 44% to Peoria, according to Johnson. […]
Glendale Star: Sen. Kelly visits water treatment plant
Sen. Mark Kelly visited the Glendale Oasis Water Treatment Plant on March 18, following the approval of the fiscal year 2022 omnibus, the federal budget.
Within the budget, Kelly successfully lobbied for $2 million in federal funding for the water interconnect program, which will help complete water connection between Glendale, Phoenix and Peoria.
"I'm proud that, after months of working together on this, we passed the federal budget last week and it was just signed into law a couple of days ago," Kelly said. "We have the funding to now start this historic project to make sure we're resilient and interoperable."
KVOA Tucson: Nogales Port of Entry & Cochise County Sheriff's Department to Benefit from Federal Funding