IN THE NEWS: Sen. Kelly on More Support for Ukraine, Additional Russian Sanctions
Today, Arizona Senator Mark Kelly spoke about his continued support for Ukraine following President Vlodomyr Zelenskyy's virtual address to members of Congress, the additional $13.6 billion for Ukrainian military and humanitarian assistance he helped pass in the Senate, and further actions Congress can consider amid Russia's illegal invasion of Ukraine. 
Kelly also spoke about considering expanding sanctions to enablers of Vladimir Putin beyond his inner circle. Recently, the Senate unanimously passed a Kelly-backed resolution to conduct a war crimes investigation against Vladimir Putin and his backers so they can be held accountable for war crimes and human rights abuses in Ukraine. Kelly, a Navy combat veteran who flew 39 combat missions during the first Gulf War, again reiterated his opposition to a no-fly zone in Ukraine which would put American pilots into direct combat with Russian forces, risking further escalation.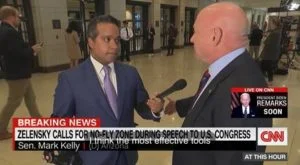 Sen. Kelly discusses his support for Ukraine following President Zelenskyy's virtual address to Congress
See highlights of the coverage below:
Arizona Republic: After Zelensky speech, Arizona delegation calls for more aid to Ukraine without combat
[…] Kelly said the U.S. can still send Stinger anti-aircraft and Javelin anti-tank missiles, arms and ammunition, and night-vision gear among other hardware. The U.S. can help facilitate Ukraine receiving Russian-made surface-to-air missiles that Zelensky requested in his remarks.
He also said adding sanctions to members of the Russian Duma is a "reasonable" possibility worth considering.
"It's very unfortunate that a good part of the world has to react to the actions of a single individual who is now committing war crimes in Ukraine," Kelly said. "It's just devastating." 
KTAR: Sen. Mark Kelly says a no-fly zone over Ukraine would engage US, Russia in war
Sen. Mark Kelly of Arizona said the United States should continue to support Ukraine with resources as it battles an invasion from Russia, but he is not in favor of establishing a no-fly zone over the war-torn eastern European country.
"We would have to suppress the enemy air defenses – that means shooting missiles or dropping other ordnance on those surface-to-air missiles and that means engaging in direct combat actions with the Russian military. That's what we're trying to avoid here," Kelly told KTAR News 92.3 FM's Arizona's Morning News on Wednesday. […]
[…] Kelly later sat in Capitol chambers to watch Ukrainian President Volodymyr Zelenskyy's video appeal to Congress to do more to help as the escalating war closes in on three weeks.
President Joe Biden's administration has stopped short of providing a no-fly zone or the transfer of military jets from neighboring Poland as the U.S. seeks to avoid a direct confrontation with Russia.
"Here's what we've done," said Kelly, who flew missions over Iraq in the early 1990s as a Navy fighter pilot. "Supported the Ukrainian military, the Ukrainian government, President Zelenskyy, who's doing a fantastic job leading a besieged nation. 
"We're providing them the resources that they need to fight back."
CNN: US lawmakers react to Zelensky's address to Congress
[…] Sen. Roy Blunt, a member of GOP leadership, told CNN he is concerned about setting up a no-fly zone. 
"I mean, any time you put American pilots and American planes in the sky, with Russian pilots and planes in the sky, you're really taking a chance that we may engage at a level that I don't think we're prepared to," Blunt said.
Democratic Sen. Mark Kelly also raised concerns about imposing a no-fly zone — and he was skeptical of the idea of transferring aircrafts to Ukraine, suggesting it would not be an effective use of resources. He's open to more sanctions and providing more defense systems such as surface to air missiles. Kelly, who is up for reelection, also said that Russian President Vladimir Putin is a "war criminal" and said that US President Joe Biden should "absolutely" call him that. "Call it what is," he said. 
NBC: Zelenskyy's plea spurs U.S. lawmakers to consider more help for Ukraine
[…] Sen. Mark Kelly, D-Ariz., also kept the door open for additional sanctions.
"He asked us to sanction the Duma — I'm willing to look into that," he said. "If they're supporting Vladimir Putin, who is a war criminal, we should look for opportunities to bring as much financial hardship and as much sanctions as we can on the Russian government."
Key House and Senate leaders were expected to receive briefings on the situation in Russia and Ukraine later on Wednesday, aides said.
Fox News: 'Heart-wrenching' Zelenskyy speech gives Congress 'vivid reminder' of Putin's brutal war
[…] Sen. Mark Kelly, D-Ariz., called the scenes in the video "tragic," adding, "Vladimir Putin is now attacking civilians, which is clearly a war crime."

The Hill: Mark Kelly says White House should characterize Putin as a war criminal
Democratic Sen. Mark Kelly (Ariz.) said the White House should be characterizing Russian President Vladimir Putin as a war criminal for his actions in Ukraine. 
Kelly was asked by a CNN reporter on Wednesday if President Biden should call Putin a war criminal.
"Absolutely," Kelly responded. "Call it what it is. He is attacking hospitals, maternity wards, apartment buildings."
"When you direct fire on civilians, by definition you are a war criminal," he added. […]