IN THE NEWS: From Yuma to Window Rock, Sen. Kelly Highlights Impacts of Infrastructure Bill Across Arizona
Last week, following House passage of the bipartisan Infrastructure Investment and Jobs Act, Arizona Senator Mark Kelly, one of the members of the bipartisan group of Senators who negotiated the bill, traveled across the state to highlight the impacts of the bill that will create jobs, upgrade our ports of entry, improve our water infrastructure and benefit tribal communities. 
Kelly started the week touring Technicians for Sustainability, a Tucson-based solar panel installation company that has helped make solar power more accessible and affordable for Southern Arizonans. The infrastructure bill will invest in upgrading the power grid to support the deployment of more renewables, a provision that Kelly focused on as part of the working group on power.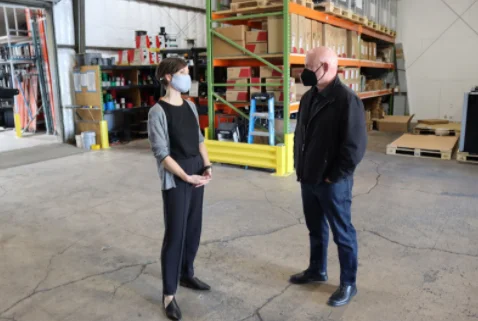 Next, Kelly traveled to Yuma and San Luis, where he took part in a classified U.S. Army convergence exercise at the Yuma Proving Grounds. 
Kelly then joined San Luis Mayor Jerry Sanchez to tour the San Luis Port of Entry, a key economic driver for the Yuma region and the entire state. Thanks to Kelly, the infrastructure bill will enable the General Services Administration and Customs and Border Protection to complete the San Luis 1 Modernization Project, bringing overdue upgrades to the port of entry and allowing Customs and Border Protection agents to efficiently expedite cross-border travel and trade while also stopping illegal cargo and trafficking. After the walking tour, Kelly viewed the plans and blueprints for the modernization project, and received an operational briefing from Yuma Border Patrol Sector Chief Chris T. Clem at the San Luis POE, where he heard from Border Patrol officials about the current border security conditions and needs in the sector.
Traversing to the opposite corner of the state, Kelly spent Veterans Day on the Navajo Nation, where he made stops honoring Navajo veterans and emphasizing the bipartisan infrastructure bill's impacts on tribal communities, including repairing and paving roads, providing clean water access and bringing high-speed internet to families.  
Kelly met with the 24th Navajo Nation Speaker Seth Damon and a number of Council Delegates, participated in a Veterans Day Ceremony alongside Navajo Nation President Jonathan Nez, and met with Coconino, Apache, and Navajo County officials including Apache County Chair Dr. Joe Shirley Jr., Navajo County Supervisor Alberto L. Peshlakai, Navajo County Sheriff David Clouse, and the Coconino County Vice-Chair Lena Fowler, among others. They discussed how the infrastructure bill and other legislative actions Kelly is championing in the Senate will help their communities tackle issues like the ongoing drought, public safety, public health improvements, and more.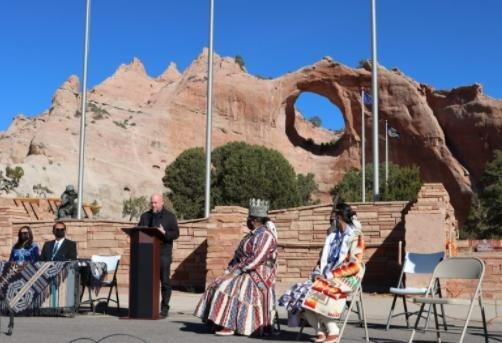 While in Window Rock, Kelly also toured Navajo Housing Authority projects and visited with a Navajo homeowner who, thanks to COVID-19 relief funding, had a water and sewer system installed in her home. Kelly fought to ensure that the infrastructure bill will fully fund the backlog of shovel-ready Indian Health Services drinking water and wastewater projects like the one he visited Thursday. Kelly ended the visit by meeting with a number of members of the Navajo Nation Veterans Advisory Council, where they talked about the issues facing Navajo veterans.
Back in the Phoenix-area, Kelly and Chandler Mayor Kevin Hartke toured Veterans Oasis Park in Chandler, where he saw the city's water reclamation efforts. The bipartisan infrastructure bill passed by Kelly includes a new Pilot Program for Alternative Water Source Projects, which funds projects for water, wastewater, or storm water reuse or groundwater recharge projects. Kelly championed the inclusion of this program in the bill, which will provide a critical source of funds for water reuse programs in Arizona, including projects modeled after the City of Chandler's facility.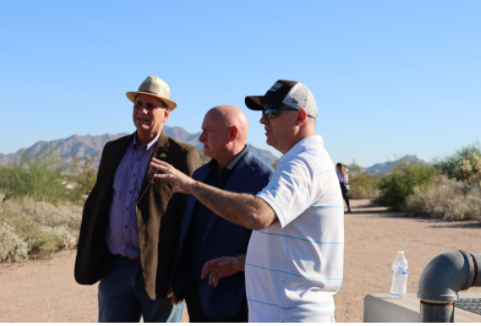 See highlights from Kelly's visits below: 
KOLD Tucson: Infrastructure Impact – Kelly and Sinema Size Up the $1 Trillion Package
KYMA Yuma: Kelly visits San Luis to talk port upgrades 
The San Luis Arizona Port of Entry has not been renovated since 1985.

That's why Kelly has fought hard to bring more than 3.5 billion dollars to Arizona ports.

"So getting more vehicles across the border, get them inspected when we need to inspect them and process individuals. You know, who will support the businesses, you know, not only here but even in Phoenix as well, that's, that's important for the economy," Kelly told reporters Tuesday afternoon.
Native News Online: Navajo Nation Welcomes Sen. Mark Kelly on Veterans Day
Retired U.S. Navy combat pilot and NASA astronaut, current U.S. Sen. Mark Kelly (D-AZ) paid a visit to the Navajo Nation on Veterans Day to commemorate Veterans Day during a live-streamed event at Veterans Memorial Park in Window Rock, Ariz., the capital of the Navajo Nation.  […]
Sen. Kelly said he wanted to be on the Navajo Nation on Veterans Day because he understands the long and proud history of military service that the Navajo people have provided for so many years. He also spoke about the need for the federal government to provide more support and services for all veterans.