ICYMI: Senator Kelly Visits Border, ICU, Meets with Mayors and Small Businesses Impacted by COVID-19
In case you missed it, Senator Mark Kelly spent his first state work period with a trip to the U.S.-Mexico border in Douglas, Arizona, putting a focus on issues facing Arizonans along the US-Mexico border, ranging from COVID-19 to border security and Arizona's economy. He also continued the focus on Arizona's COVID-19 recovery, meeting with Arizona mayors, hospital staff, and small business owners to discuss the support they need to get through this pandemic.
Continuing with his focus on the pandemic's impact on Arizonans, Kelly visited Rebel Lounge, held a roundtable with small business owners, toured the Tucson Medical Center's intensive care unit, spoke with his COVID-19 working group, met virtually with Local First and a number of its members, and held a Northern Arizona Partnership meeting with business leaders in northern Arizona.
On Friday, Kelly made his first trip to the U.S.-Mexico border as senator, where he toured the Port of Douglas with Mayor Donald Huish, Area Port Director Jeffery Wilson, and Customs and Border Protection Director of Field Operations Guadalupe Ramirez. They discussed commerce, security, and the importance of upgraded infrastructure at our ports of entry.
Earlier in the week, Kelly met virtually with representatives from the Arizona Border Counties Coalition, where he heard about the needs of border communities when it comes to the distribution of the COVID-19 vaccine.
Kelly also met with Interim Border Patrol Tucson Sector Chief John Modlin, Nogales Mayor Arturo Garino, and Yuma Mayor Doug Nicholls. He met with the Mayor of San Luis Jerry Sanchez about the San Luis Port of Entry in late November 2020.
See coverage and highlights below:
KOLD: Senator Mark Kelly tours Tucson Medical Center at height of pandemic
Bringing in Kelly could help the hospital continue the treatment. [Tucson Medical Center] said they need more waivers for staffing and help from ADHS. […]
Aside from help to keep the treatment in Tucson, the hospital hopes what senator Kelly saw in their ICU, vaccine clinic will be shared in D.C.
"I'm not so sure how many of my senate colleagues have visited an ICU, probably some of them, but clearly not all of them, and I can share that experience with them," said Kelly
KYMA: Sen. Mark Kelly tours Southern border to assess ports of entry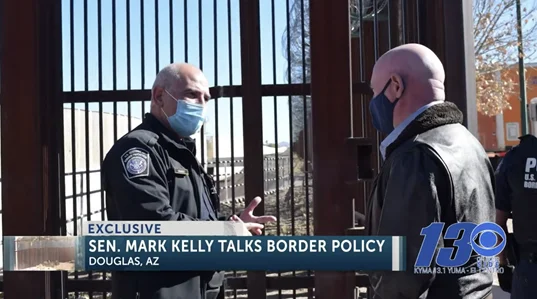 On Friday, U.S. Senator Mark Kelly met with border officials along the United States border with Mexico. Just weeks into his term, Sen. Kelly touring a portion of the border.
He says infrastructure is a critical part of border security and things need to be upgraded.
Herald Review: Sen. Kelly makes stop in Douglas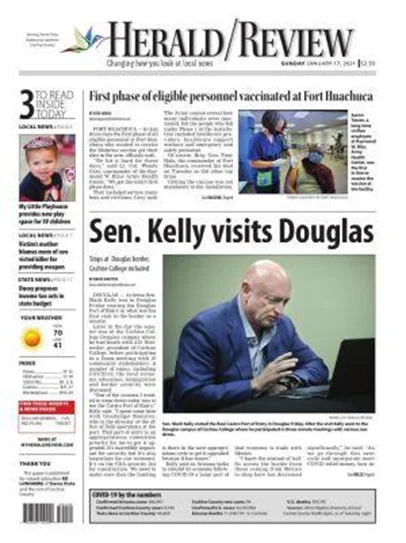 Arizona Sen. Mark Kelly was in Douglas Friday touring the Douglas Port of Entry in what was his first visit to the border as a senator.
Later in the day the senator was at the Cochise College Douglas campus where he had lunch with J.D. Rottweiler, president of Cochise College, before participating in a Zoom meeting with 10 community stakeholders. A number of topics, including COVID-19, the local economy, education, immigration and border security were discussed. […]
The senator said the message that he will take back to his colleagues in Washington, D.C., is that Douglas as well as Cochise County need the funding for the port of entry expansion.
"This brings real revenue to our country if we upgrade these ports of entry," he said. "It's not only good for the state of Arizona, it's good for trade, it's good for our country, so this is an investment. I would like to see these ports of entry get moved up on the priority list and get the funding they need so they can be more efficient. That's going to be my main message from the visit today."
Kelly said as Arizona looks to rebuild its economy following COVID-19 a large part of that economy is trade with Mexico.
AZ Family: Senator Kelly visits Phoenix music venue
Telemundo: Senador Mark Kelly visita centro medico de Tucson
Univision: Mark Kelly apoya plan para salvar nuestros escenarios
KGUN: Sen. Mark Kelly tours medical center