PHOTOS: Kelly, Budd Tout Bipartisan Bill to Support Mission of America's VetDogs
Today, United States Senators Ted Budd (R-NC), Mark Kelly (D-AZ), and leadership from America's VetDogs hosted a bipartisan, bicameral press conference highlighting the importance of the Working Dog Commemorative Coin Act, legislation introduced by Kelly and Budd which would instruct the U.S. Mint to develop a commemorative coin series honoring the critical role working dogs play in our society while providing financial support to help raise and train service dogs for veterans.
"As a Navy combat veteran, I've seen how many servicemembers come home with scars, both the kind you can see and the kind you can't see. That can make it much more difficult to reintegrate into civilian life and regain independence. The same goes for first responders. Our bipartisan bill will help ensure more veterans and first responders can benefit from the help and companionship that comes with a service dog. As we work to combat suicide in the military and veteran communities, this can be part of the solution — and our bill does it in a fiscally responsible way," said Senator Kelly, a Navy combat veteran and a member of the Senate Armed Services Committee.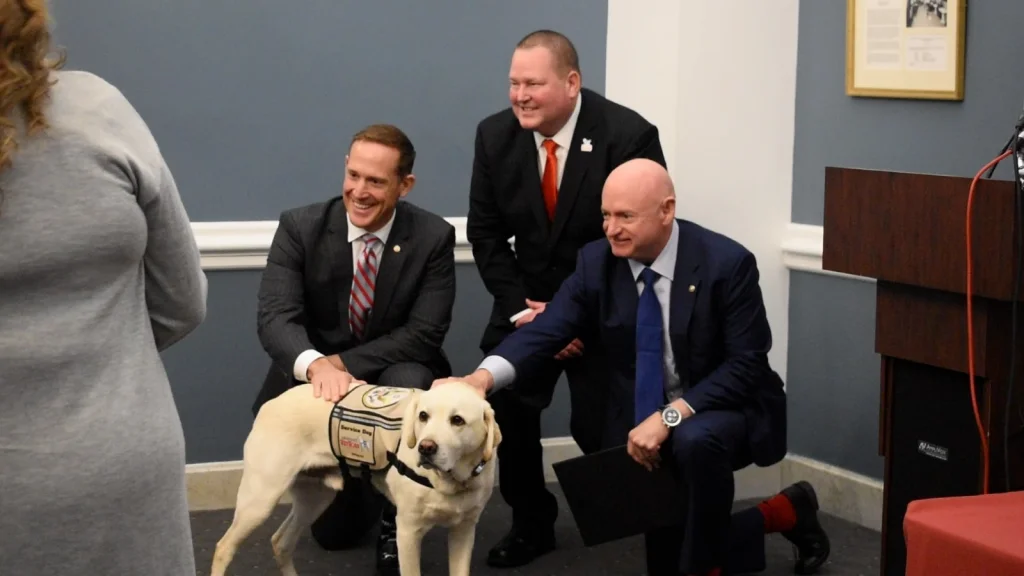 Kelly, Budd, and America's VetDogs were also joined by the bill's co-sponsors Senators Tammy Duckworth (D-IL) and Thom Tillis (R-NC) and U.S. Representatives Jim McGovern (D-MA) and Patrick McHenry (R-NC). Currently, the House companion legislation has more than 90 co-sponsors.
The lawmakers were also joined by graduates of the America's VetDogs program and their service dogs, as well as special guests – Biscuit, the Washington Capitals Puppy with a Purpose and future America's VetDogs service dog, and Sully H.W. Bush, former service dog to President George H.W. Bush. All surcharges from Kelly and Budd's bipartisan legislation will go to America's VetDogs to ensure that this organization can continue to provide these lifesaving animals to veterans and first responders with disabilities at no cost to the individual.